10% CASHBACK on your account balance for orders over 30€! Read more
Muhle safety razor R89 Black
Out of stock
Would you like to be notified when this product is back in stock?
Brand: Muhle
EAN: 4028982014996
SKU: 14996
Categories: Muhle, Safety Razors
10% CASHBACK on your account balance for orders over 30€! Read more
Frequently Bought Together
+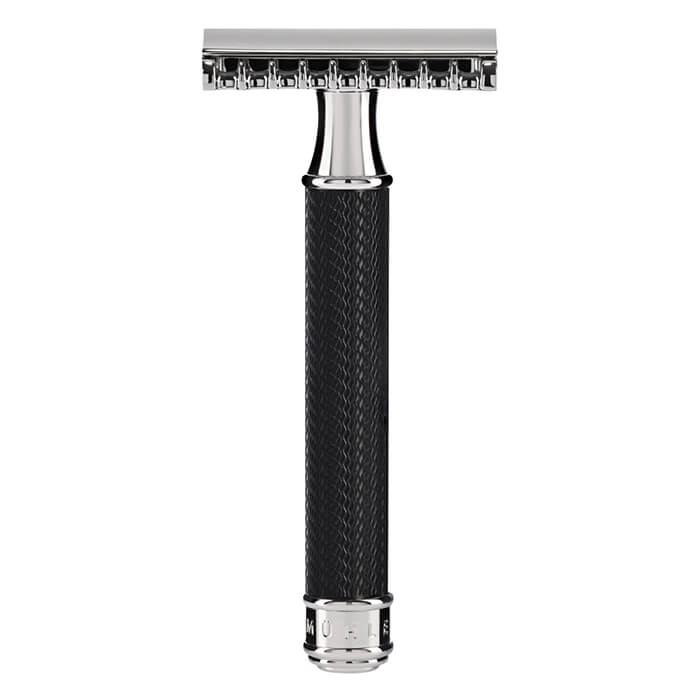 +
Muhle safety razor R89 Black
Without chrome plating, the world would lose much of its lustre. The Muhle chrome plating used for all razors is of the highest quality; corrosion resistance and extremely long life are the main features, not forgetting that Muhle chrome plating is also luxurious and decidedly seductive.
For generations, the safety razor has been considered a classic in male shaving.
For many, the Muhle R89 is the razor par excellence.
After a short familiarisation period, and guided by a steady hand, it produces a long-lasting shave and result. Unlike modern multi-blade systems, the head of the safety razor does not move. The blades are replaceable by unscrewing the head.
Technical specifications
Head width: 42 mm
Length of razor: 94 mm
Colour: black
Only logged in customers who have purchased this product may leave a review.
You may also like…
Rated 5.00 out of 5 based on 5 customer ratings
(5)
39,45 €
Buy now for shipping tomorrow.
Related products
Rated 0 out of 5
(0)
41,95 €
Buy now for shipping tomorrow.
Rated 2.67 out of 5 based on 3 customer ratings
(3)
23,45 €
Buy now for shipping tomorrow.
Information
We use cookies, including third party cookies, to improve your browsing experience and to send you personalised promotional messages. By continuing to browse the site you consent to their use in accordance with our
Cookie policy
.
You can freely give, refuse or withdraw your consent at any time by accessing the advertising preferences panel. You can consent to the use of these technologies by closing this policy.
Manage consent
Information on cookies on this site
We have classified the cookies on the site, below you can read about the purpose of each category, with the option to block cookies partially or completely. When previously allowed categories are disabled, all cookies assigned to that category are removed from your browser. You can also view a list of cookies assigned to each category, with more information in the cookie statement.
Find out more
35.95